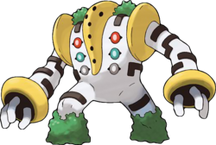 Regigigas is a Normal type legendary Pokemon that comes to life when Regirock,Regice,and Registeel are gathered together. Regigigas is a big monster Pokemon that crushes the ground with it's big feet,it can even probably defeat Darkrai. Regigigas is set to be obtainable in Pokemon Tower Defense 4.
| Normal Sprite | Shiny Sprite |
| --- | --- |
Ad blocker interference detected!
Wikia is a free-to-use site that makes money from advertising. We have a modified experience for viewers using ad blockers

Wikia is not accessible if you've made further modifications. Remove the custom ad blocker rule(s) and the page will load as expected.