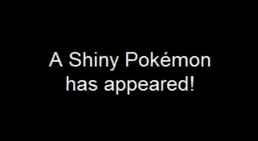 Shiny Pokémon are rare Pokémon that have a different color scheme and they shine too. Shiny Pokémon have a 1/8192 of appearing in every Pokémon and Pokemon Tower Defense games, but in every Pokémon Tower Defense games the chance is 1/8000. The Pokémon will show up with a shiny ring around it. Shiny Pokémon were created by Nintendo for rare Pokémon collectors and to put them as hidden stuff in the games. The red Gyarados is one example of a shiny Pokémon. Nintendo put that Gyarados in there to get people to learn more about Pokémon. In Pokémon Tower Defense,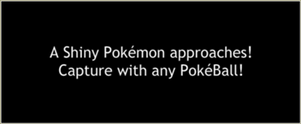 you will see a message saying
A Shiny Pokémon Has Appeared! in PTD1 (as seen) and in PTD2 the message is
A Shiny Pokémon Approaches! Capture With Any Pokéball!
(as seen also)
 on your computer screen in a black window when a shiny Pokémon appears. Shiny starters can be only gotten by trading or spending 10 SnD Coins, and shiny legends, only can be gotten by trading or spending 20 SnD Coins. SnD Coins are the rare coins in PTD that are used to buy shiny Pokémon, you can buy them with a credit card (IF YOU HAVE ONE) and buy shinies from the Pokémon Center. SnD Coins can be gotten from the daily gift but at low chances, 0.5% for 1, 0.1% for 5, 0.05% for 10, and 0.01% for 20(varies). Very rare chances for Rare Daily Gift, if you wan't better chances for SnD Coins, beat the game then. You can only do the Daily Gift once a day, or if you think the Daily Gift is ridiculous, just buy SnD Coins with a credit card. There are some people that play Pokemon Tower Defense that don't have a credit card because they're under 18 years old. Oh well, I guess you have to get SnD Coins the hard way. People that don't or can't buy SnD Coins probably only get a couple or a few SnD Coins a year. Because the chances on the Daily Gift should get you a few SnD Coins a year. 365 Daily Gifts a year, you might get a few SnD Coins during that 365 times. You can also earn SnD Coins from Game Interlude.com to buy cool shinies in the Pokémon Center. Game Interlude has games to play, try to earn the achievements for Game Interlude Points. you can use them to buy SnD Coins, the SnD Coins may take up to 2 days to show up in your Pokémon Adoption. and one more thing, you do need to sign up for Game Interlude, so get an account. 
http://gameinterlude.com/